HAIJIANG plastic injection machine features:
→ bigger space between tie-bars
→ central-clamping structure
→ famous components
→ energy saving with servo motor
→ low noise, fast respons
→ high precision, Stable and super long life
→ T-Slot Platen
→ abundant Spare Parts
→ better price
Clamping Unit:
1. Optimized Platen Design with high rigidity and enlarged space between tie bars
2. Euromap-based Platen Layout with both T-slot & tap holes, locating design in moving platen to better suit various molds
3. New ejection system design with longer ejection stroke, bigger space and better rigidity
4. Hydraulic drivien gear-type mold height adjustion mechanism
5. Relocation of mechanical safety interlock for easier operation
6. linkage structure for front connecting rod increases connectingrod's strength greatly, as well as the whole clamping unit's rigidity & accuracy.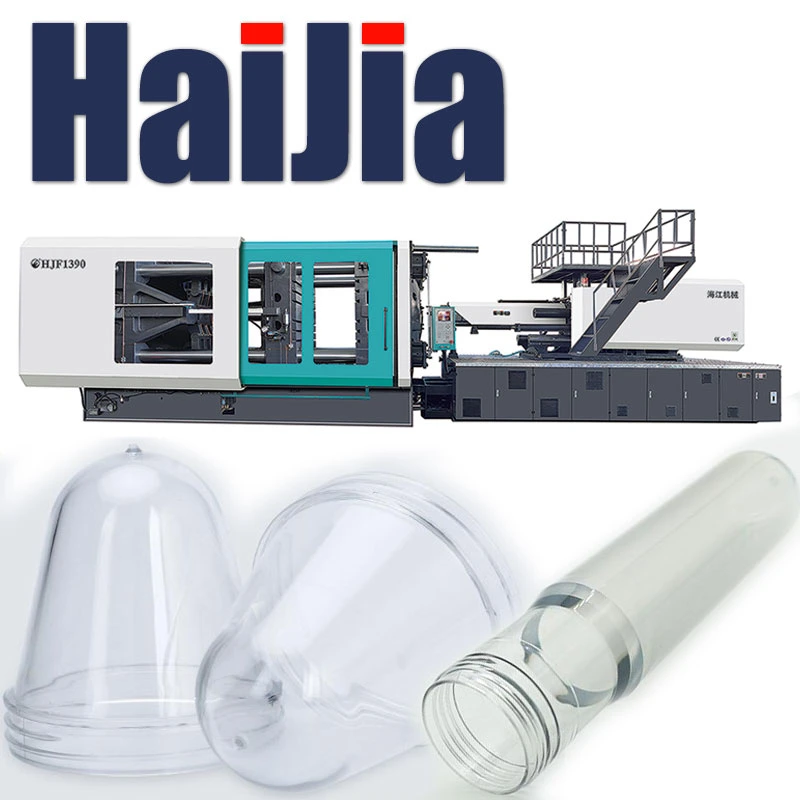 Injection Unit:
1. High Quality Linear Motion Guide ensure the smooth & accuracy of injection process
2. High Speed & Pressure injection structure can improve the injection speed
3. Twin nozzle cylinder ensures more even & stable structure
4. Specilized screw barrel design for various appliance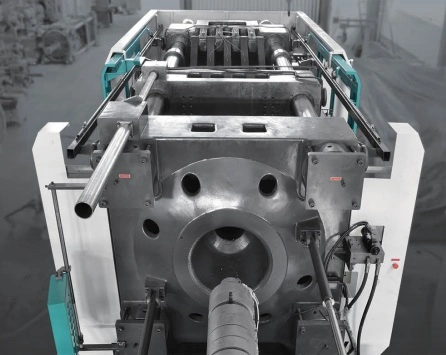 Hydraulic System:
1. The double proportional compound valve control system pressure & flow, highly sensitive & stable
2. Imported high quality Pump, low in noise, long in lifespan & stable in performance
3. World-famous servo hydraulic system optional, better performance in lower noise & energy saving
4. The precise feedback control of servo system to the pressure & flow, with higher sensitivity & more accurate repeatability precision
5. High performance hydraulic valve, less failure, fast switch, convenient maintenance
6. Low pressure mold protect system, which is more suitable for the precise mould
7. Greese & lubrication oil in dependent lubrication system can lubricate everywhere in the best situation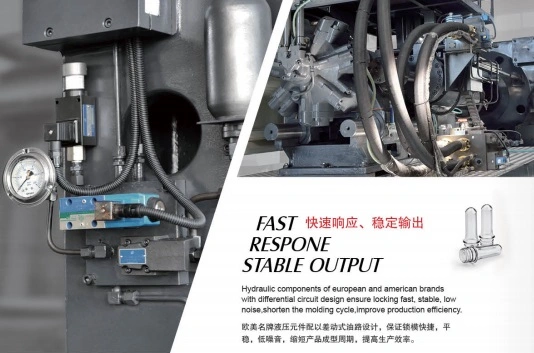 Electrical System:
1. Control by double CPU, the system HMI use X86 300MHz technical grade display. The system employees a RISC 140MHz microprofessor, with high speed, noise-immunity, fan-less and lower power consumption, independent control structure improve the stablity of control
2. 8.4" display screen with resolution 800*600, user friendly screen & optional choose of language
3. Equiped with USB(2.0) port & ethernet(100-base T) ports
4. 32 Points input & output, entendable and trouble spot can be replaced easily
5. Linder transducer's resolution is 1/65535, more precise in control
6. 120 technological parameters access can be stored & uploaded with an ordinary USB drives
7. Injection End and temperature tracking is curve display, dynamic recorder parameter is modified, dynamic warningis exhibited, all these make the operation more convenient.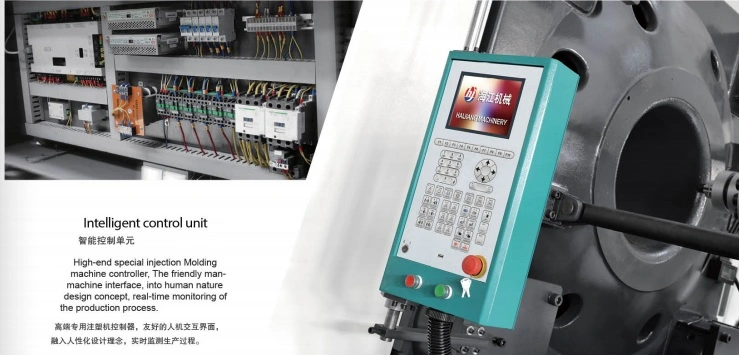 Servo Controller Part:
1. High Precise Control The servo system can control the machine's pressure, speed & location precisely, make sure that the error of accurate repeatability precision for the shot measurement is <0.3%
2. High sensitive response Because the motor vector is matched with the controller accurately, it only takes 0.5sec. inputing the number from 0 to max. Compared with other traditional hydraulic injection molding machine, HJ series is more faster in speed with shorter cycle time and high efficient in production
3. Low noise Compared with traditional fixed pump & variable pump system, the noise is 1/10 lower under normal circumstance, more suitable for sealed dustless workshop
4. Energy Saving Overall efficiency is 10% more & driving capacity is 18% more than common machine. This series can save 40-80% energy, and achieve first-class energy efficency
5. Water cooling saving The system condition prevent high pressure uploading without any power output, leads to the water cooling saving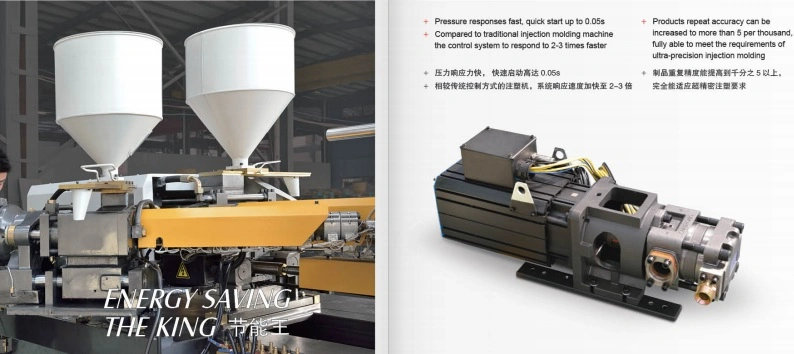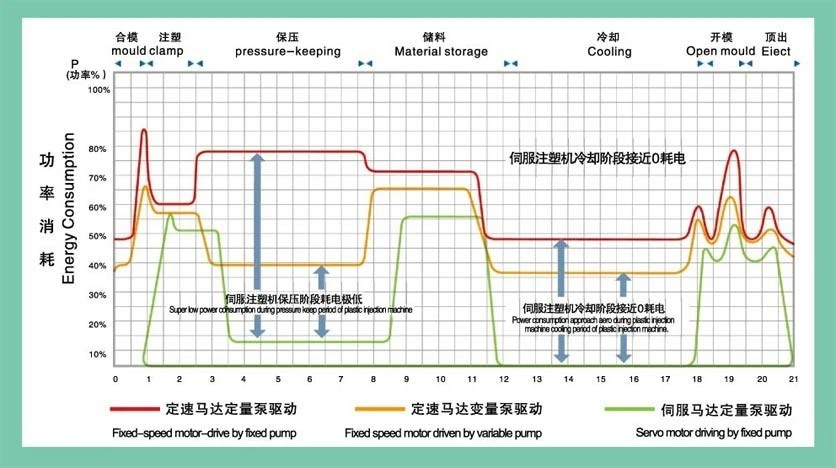 Parameter

Unit

HJF118-F5

Screw diameter

mm

A

B

C

35

38

40

Screw I/D ratio

L/D

23.9

22

20.9

shot volumn (theoretical)

Cm3

154

181

201

injection weight(PS)

g

141

165

183

injection rate

g/s

80

95

105

injection pressure

Mpa

219

186

167

screw speed

r/min

0~220

clamp force

KN

1180

opening stroke

mm

340

space between tie bars (W*H)

mm

370*370

max mould height

mm

400

min mould height

mm

150

ejector stroke

mm

100

ejector force

KN

33

ejector number

PC

5

max pump pressure

Mpa

16

pump motor power

KW

11

heating power

KW

6.5

machine dimension

M

4.2*1.25*1.8

machine weight

T

3.5

oil tank capacity

L

210
FAQ
Q1. What is the warranty for the injection molding machine
A1:Total 18 month,Included machine platen,base,injection unit,clamping unit.
Q2:Can you sending engineer to oversea install machine and trainning customer's workers.
A1: Yes,We will send engineer to customer factory install the machine or trainning customer's workers. in one week,total free.
After one week, 50$ per day

Q3:How Many spare parts you will prepare for customer?
A3: Spare parts included: mould clamp, long and short nozzle,heating band,Wrench,Switch,Thermocouple,Operation manual
Tool box,Lubricate Oil,Sealing,Filter etc.
Q4:Computer sytem,Except English, can you change other language,say: French,Spanish,Arabic,Russian.
A1:Yes,when you place order,please tell us the language which you required. Standard one with English,Japanese,Chinese,Korea.

Q5:Can you change the power source for us? Say:we need 3 Phase 220V 60HZ
A5: When you place order,please write clearly.Then we will change the electric system for you.

Q6:If i Need Green Color machine,can you do it for us?
Q7: Yes,please give us the color sample.So we can do it for you.
Http://cnhaijiang.en.made-in-china.com
Ningbo Haijiang Machinery Manufacturing Co.,Ltd.
Address:Next to the treasure Bringing the road, Yinzhou District, Ningbo (Tong Industrial Zone)