Injection screw barrel, injection molding screw barrel, Single Screw and Barrel for Injection Moulding Machinery,plastic machinery screw barrel
Specification:
Screw diameter: Φ 20mm-Φ 220mm
Mould clamping force: 250T-3200T
Shot weight: 30G-30000G
Technical Information
Base Materials:
1). 38CrMoAlA(JIS SACM645).
2). 42CrMo(AISI 4140).
3). 4Cr5MoSi V1 (JIS SKD-61).
4). 9Cr18MOV
5). HPT
Bimetallic alloy materials:
1). Fe-based alloy
2). Ni-based alloy/Deloro alloy
3). Co-based alloy
4). NiCo-based alloy
5). Tungsten carbide/Wolfram carbide
Technics:
Heat treatment
High-frequency quenching
Nitriding treatment
Hard-chrome electroplating
Bimetallic alloy welding
Bimetallic alloy centrifugal casting
Technical parameter:
Nitrided layer depth: 0.5-0.8mm
Nitrided hardness: 900-1000HV
Nitrided brittleness: Less than grade 1
Surface roughness: Ra0.4
Linearity of screw: 0.015mm
Hard-chrome plating hardness after nitriding: >=950HV
Chrome-plating layer depth: 0.025-0.085mm
Bimetallic layer depth: 3mm
Warranty and service: 1 year
Our advantages:
1). Excellent raw materials
2). Good customer service
3). Rapid delivery
4). Reasonable price
5). Production quickly
Technical Information
Experienced manufacture, we will be the best choice.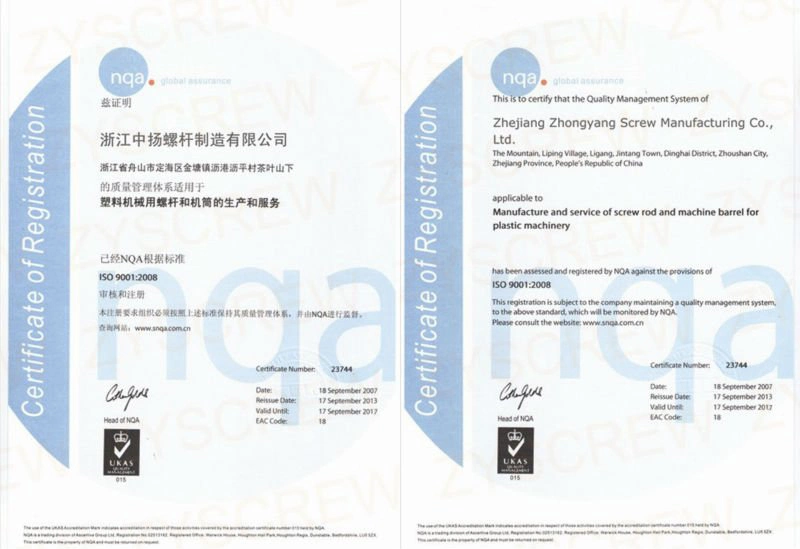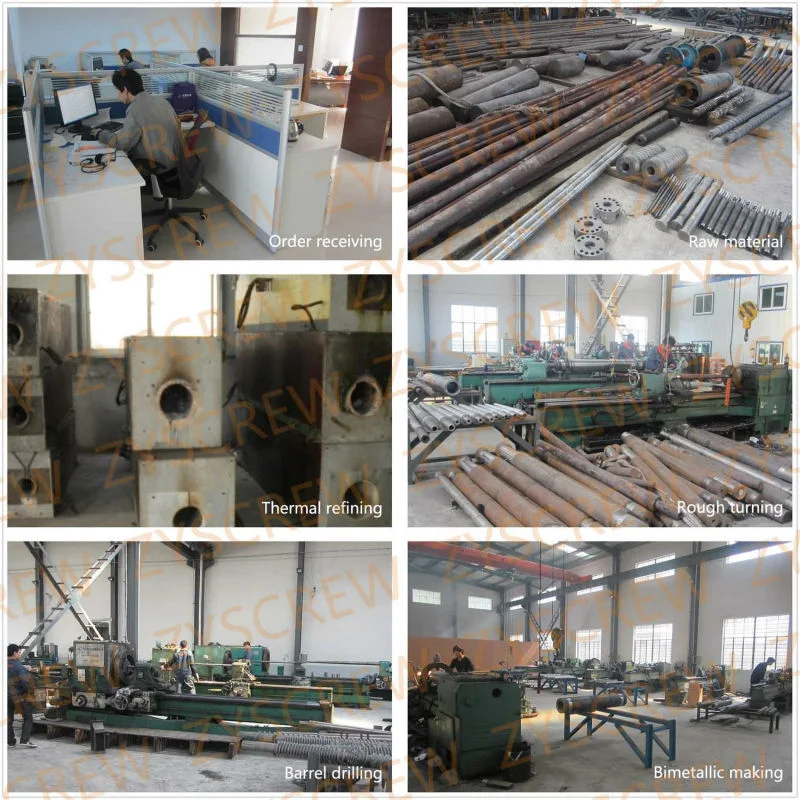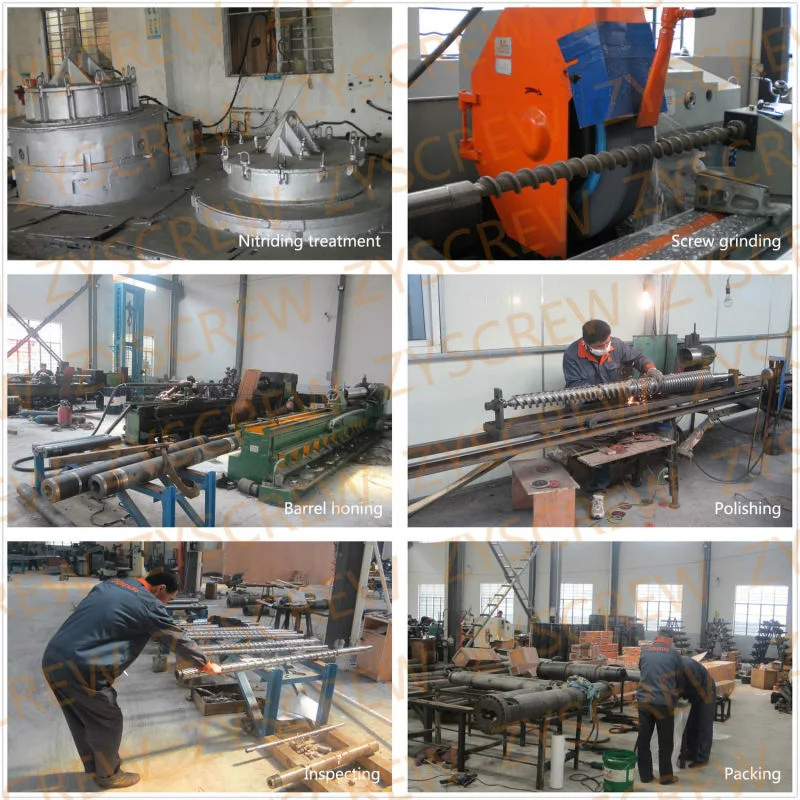 Technical Parameter For Extruder Machine
Base Material
1)38CrMoAlA(JIS SACM645);2)Cr12MOV(JIS SKD-11) ;
3)4Cr5MoSiV1(JIS SKD-61) ;4)42CrMo(AISI 4140)
Bimetallic Alloy Materials
1)Fe-based alloy 2)Ni-based alloy/Deloro alloy
3)Co-based alloy 4)NiCo-based alloy
5)Tungsten carbide/Wolfram carbide
Double-alloy level
Level A - containing Tungsten of 40%
Level B - containing tungsten of 25%
Level C - containing tungsten of 9.5%
Surface Treatment
Heat Treatment
High Frequency Treatment
Nitriding treatment(120 Hours):
Depth of Nitrided Layer: 0.5-0.8 mm
Hardness of Nitrided Layer: 900-1020Hv (HRC56°-65°)
Hard Chrome Plating treatment:
Thickness of Hard Chrome Plating Layer: 0.05-0.10mm
Hardness of Hard Chrome Plating Layer: ≥ 950HV
Nickel alloy plating.treatment:
Bimetallic Barrel/Cylinder: Centrifugal Casting (Inlay Alloy)
Bimetallic Screw: Plasma Alloy Coating Spraying
Depth of Bimetallic Layer: >2mm
Hardness of Bimetallic Layer: HRC55°-72°
Spraying corrosion wear-resisting dual metal layers
Basic information
Roughness of the surface:Ra0.4um
Linearity of the screw: ≤ 0.015mm
Linear axis limit: ≤ 0.02mm
Hardness after Hardening & Tempering: HB240-280
Fragility of Nitration: ≤ Two class
Material Application
1)General Plastics
2)ABS,PA,PC,PE,PET,PP,PS,EVA,PU,PVC,U-PVC,etc
3)PA + GF(Glass Fiber)
4)Flame-resistant Reinforced Plastics
5)Modified Engineering Plastics
6)All kinds of Mixed Recycled Material(in Scrap or Granule), PVC + 30% CaCo3, etc