Injection screw barrel, Single Screw Barrel for PVC injection / PVC injection single screw barrel, plastic machinery spare parts
Specification:
Screw diameter: Φ 20mm-Φ 220mm
Mould clamping force: 250T-3200T
Shot weight: 30G-30000G
Base Materials:
1). 38CrMoAlA(JIS SACM645).
2). 42CrMo(AISI 4140).
3). 4Cr5MoSi V1 (JIS SKD-61).
4). 9Cr18MOV
5). HPT
Bimetallic alloy materials:
1). Fe-based alloy
2). Ni-based alloy/Deloro alloy
3). Co-based alloy
4). NiCo-based alloy
5). Tungsten carbide/Wolfram carbide
Technics:
Heat treatment
High-frequency quenching
Nitriding treatment
Hard-chrome electroplating
Bimetallic alloy welding
Bimetallic alloy centrifugal casting
Technical parameter:
Nitrided layer depth: 0.5-0.8mm
Nitrided hardness: 900-1000HV
Nitrided brittleness: Less than grade 1
Surface roughness: Ra0.4
Linearity of screw: 0.015mm
Hard-chrome plating hardness after nitriding: >=950HV
Chrome-plating layer depth: 0.025-0.085mm
Bimetallic layer depth: 3mm
Warranty and service: 1 year
About ZY:
1. Rich strength----We have our own professional teams in the sales, design, production, inspection and customer service areas. We concentrate to bring customers the most perfect customer experiences.
2. High-quality products----We adopt a series of advanced production and processing equipments such as CNC machines, Stellite PTA welding machines to ensure the quality of our products.
3. Large international market----We do foreign trade more than 5 years, we have a set of mature foreign trade system, our customers are all over the world. We will continue to expand our international market.
4. Location advantage----We are located in China's screw town----Jintang town, Zhoushan city, near to Ningbo Port and Shanghai Port.
5. Serious and responsible attitude----Over the years, we always maintain a serious, professional and responsible attitude, make our best efforts to meet customers' demands.
Welcome to contact us~!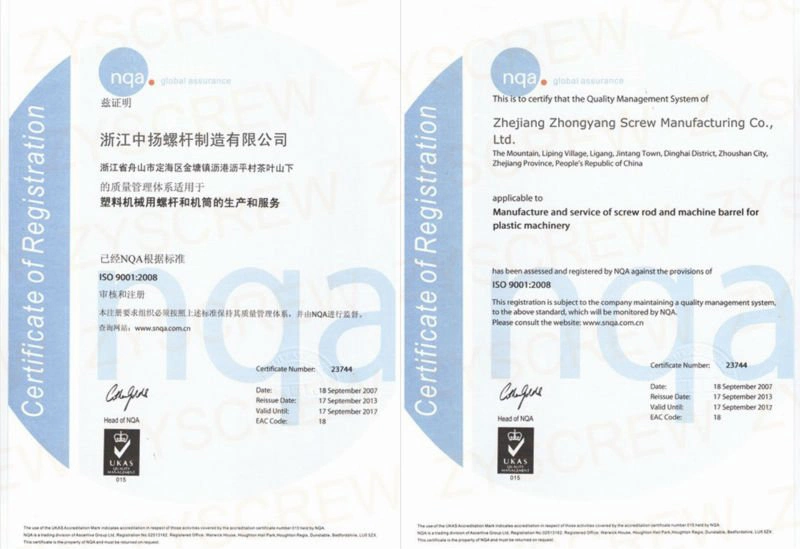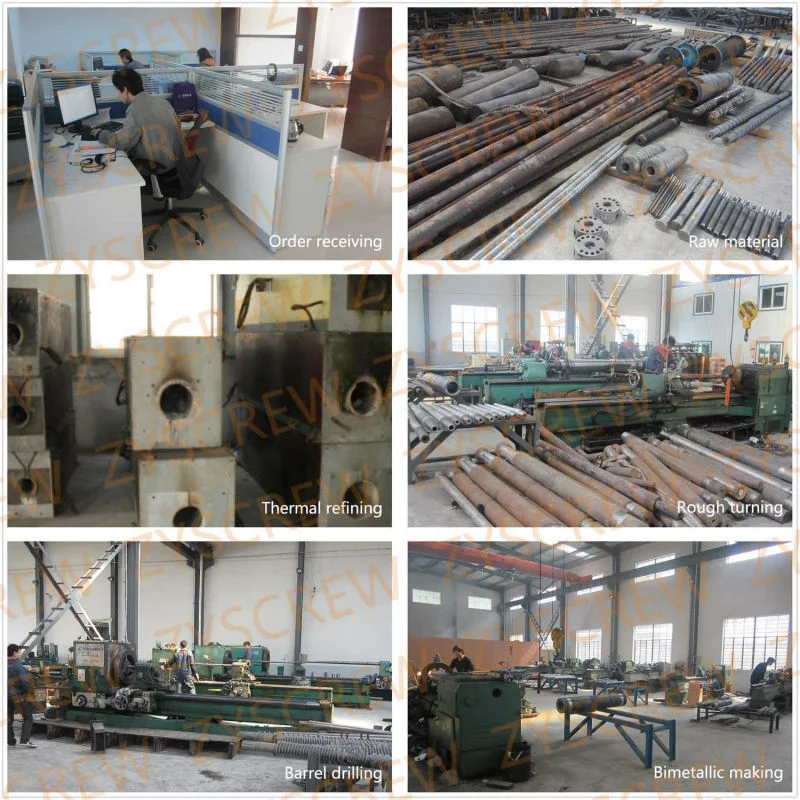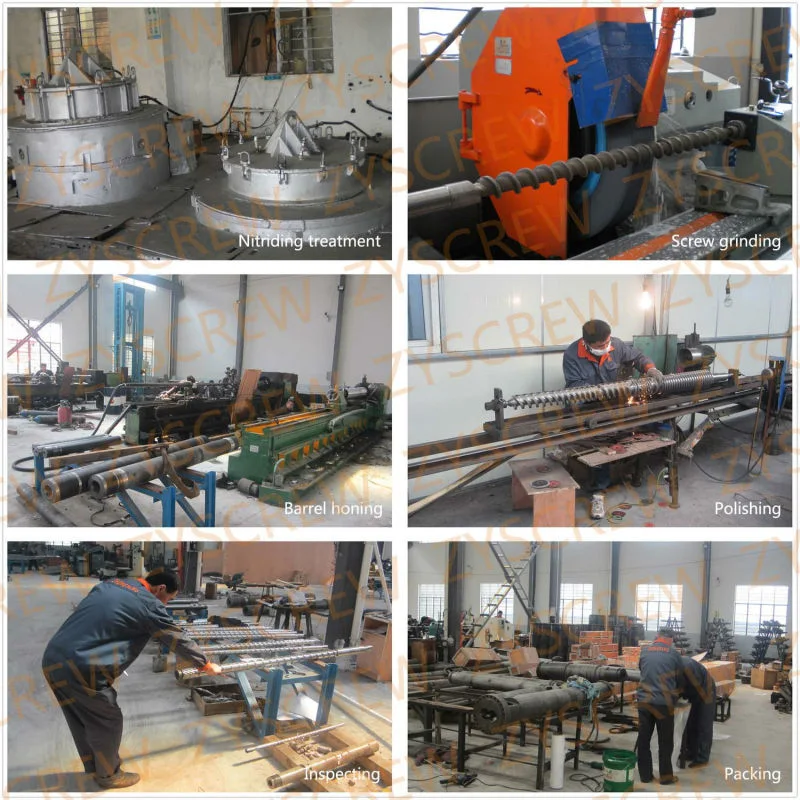 twin conical screw barrel
Diameter
Φ25/53,35/77,45/90,51/10,
55/110,65/120,65/132,
70/140,75/150,80/156, 80/172,90/184 92/188.etc

Designing

Screw structure and compression
ratio can be designed according
to different products &different mixtrues.
Standard Specifications
ISO9001,
GBT9001-2000
SO9001-2000
IAF,BOS,CNAS
Advantages
1.Long time Nitriding Technology
2.Anti-corrosion and Wear-resisting Duplex Metal Spraying Technoloy3. we uses special alloy powders being sprayed and welded on the screw's ridge,and uses different alloy and welding methods for the screw of different functions.
Materials
38CrMoAlA
(JIS SACM645)
SKD61 .etc
Application
PS,HIPS,ABS,SAN,EPN/LDPE,HDPE,UHMPE,
EVA,PP,PVC,PMMA,POM,PAST,PET,PBT
Nitride Depth
0.4mm-0.7mm
Technology
1)Longer time Gas Nitriding treatment
2)special anti-wear & abrasion alloy (bimetallic)
3)tungsten carbide;4)cobalt base alloy
5)stainless steel 6)Gh113 nickel based alloy
Nitride Hardness
950-1050HV
Packing
Wrapped up by film in wooden
Nitride Brittleness
≤Grade One
Payment
Term
T/T , L/C ,Western Union
Surface Roughness
Ra0.4um
Delivery
Term
20-30 working days
Screw Straightness
0.015mm
Port
Departure
Shanghai/Ningbo
Alloy Hardness
HRC55-62
Min. Order
1 set
Alloy Depth
1.5mm-3.5mm
Warranty period: 2-4years(Depends on the plastic raw materials)
Bimetallic: much longer lifetime.
Nitriding time
Over 180 hours